Posting your jobs on RemoteHub is one of the key benefits of the Basic Membership plan and is currently free.
When you post your job opening on RemoteHub it will be published both on your company page and on the RemoteHub Job Marketplace.
Below is what the Job Marketplace looks like: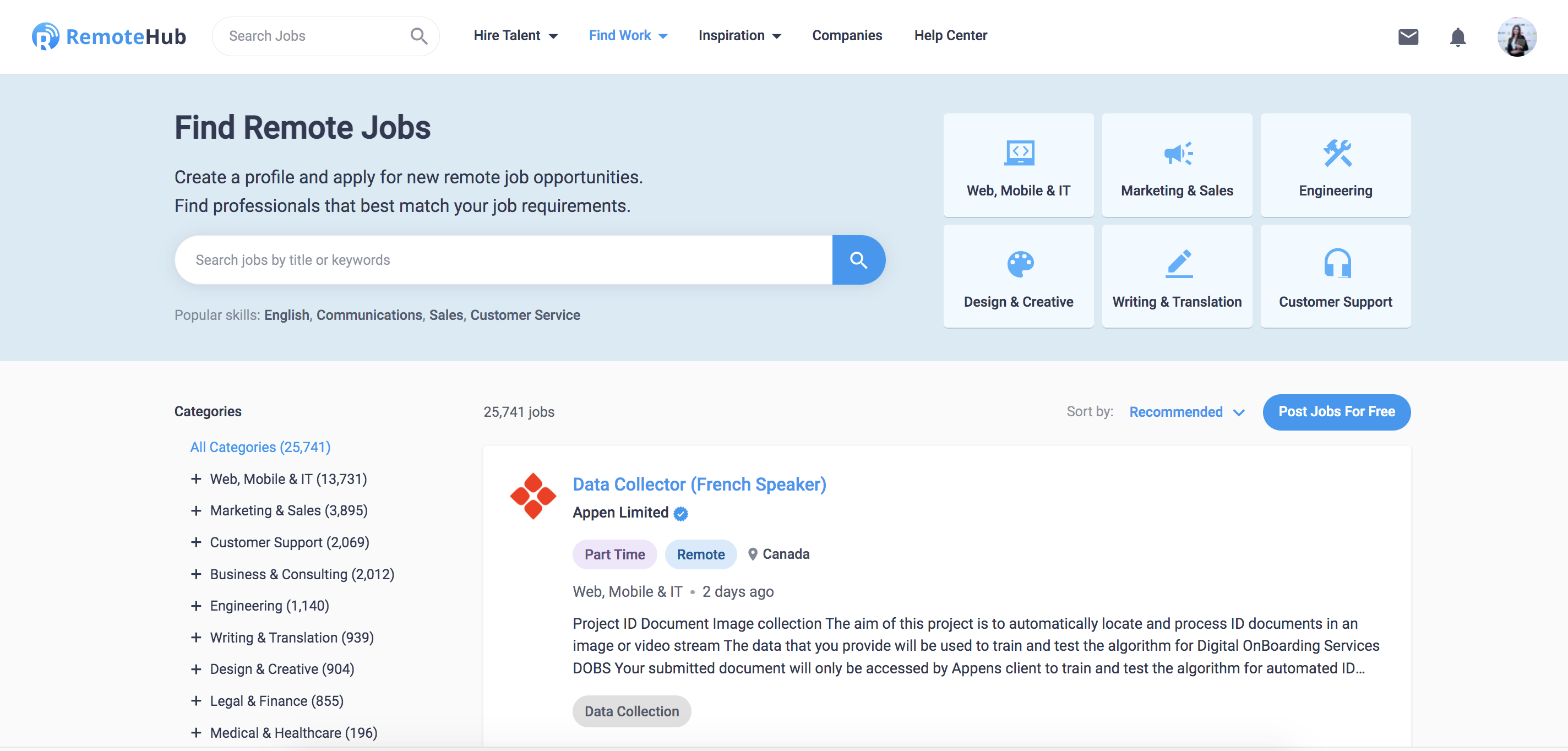 Here is a step-by-step overview of how to post a job on RemoteHub:
1. You can locate the link for posting a job in the header dropdown Hire Talent → Posting Jobs for Free.
If you are not logged-in, the system will ask you to do so after you click on Hire Talent → Posting Jobs for Free.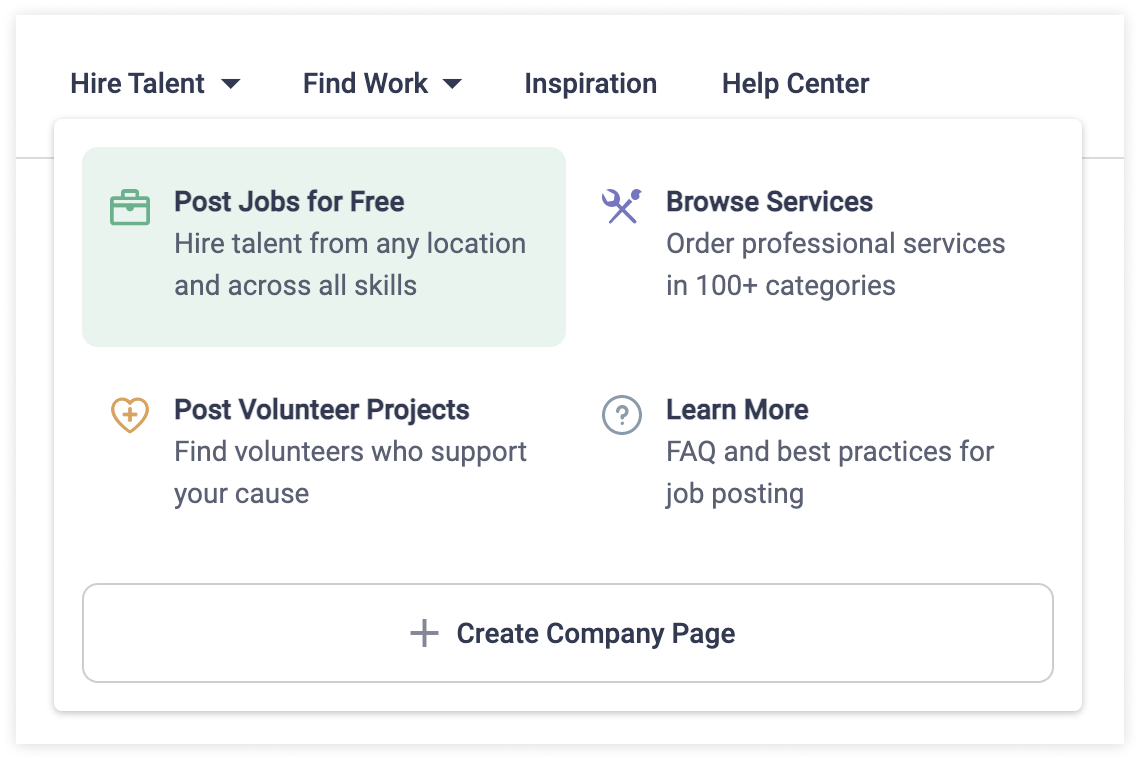 2. Provide the Job Title. The title should be clear and to the point.
3. To make it easier to find potential candidates, pick the Category that matches best. If your job could belong to more than one category, choose which one to prioritize.

You can post several jobs in different categories, but they should be different jobs with different titles and descriptions. If you try to repost the same job opening in different categories there is a high likelihood that our review team will remove it.
4. After selecting a category, several specific Subcategories will become available. They allow you to further specify the type and scope of your job opening. Choose the subcategory that most closely matches the skills you're seeking.

5. Specify the Job Type. On RemoteHub you can post jobs of any type: full time, part time, contract, internship, or freelance.
→ See What types of jobs can I post? for more information.

6. Select the location for your job. On RemoteHub, you can hire talent seeking remote, hybrid (partially remote), non-remote (fully onsite) anywhere in the world, or from a specific region, country or city.
You have the following hiring options:

If you choose the "Remote" option you can also select if the employee can work from anywhere, or must be located in a specific region or country.
If you choose one of the other options, you will need to also add the country and city of the job location.

7. Now you can select how you want to receive applications. You have several options: receive them on RemoteHub and email or via external link (e.g. your website or ATS - application tracking system).
We recommend receiving applications on RemoteHub. It will allow you to get the best candidates matching your job description, as well as to learn more about them through their profiles, and to message them on RemoteHub.


8. Now is the time to name the Salary (for full time, part time, contract, and internship jobs) or the specific Budget per project (for freelance jobs).
You are likely to get more qualified candidates to apply if the salary or budget information are listed accurately.


9. Write a detailed text Description of your job. List every relevant aspect of your work here. Go into as much detail as possible — this prevents misunderstandings with job seekers.



10. Next, list all the relevant professional Skills required for this job. Make sure it's a thorough list, mentioning anything that could be of value for potential job seekers.



11. Click the Continue button to go to the final step of your job posting.

12. Select the account from which you want to post your job. It could be either your personal account or a company page you created on RemoteHub.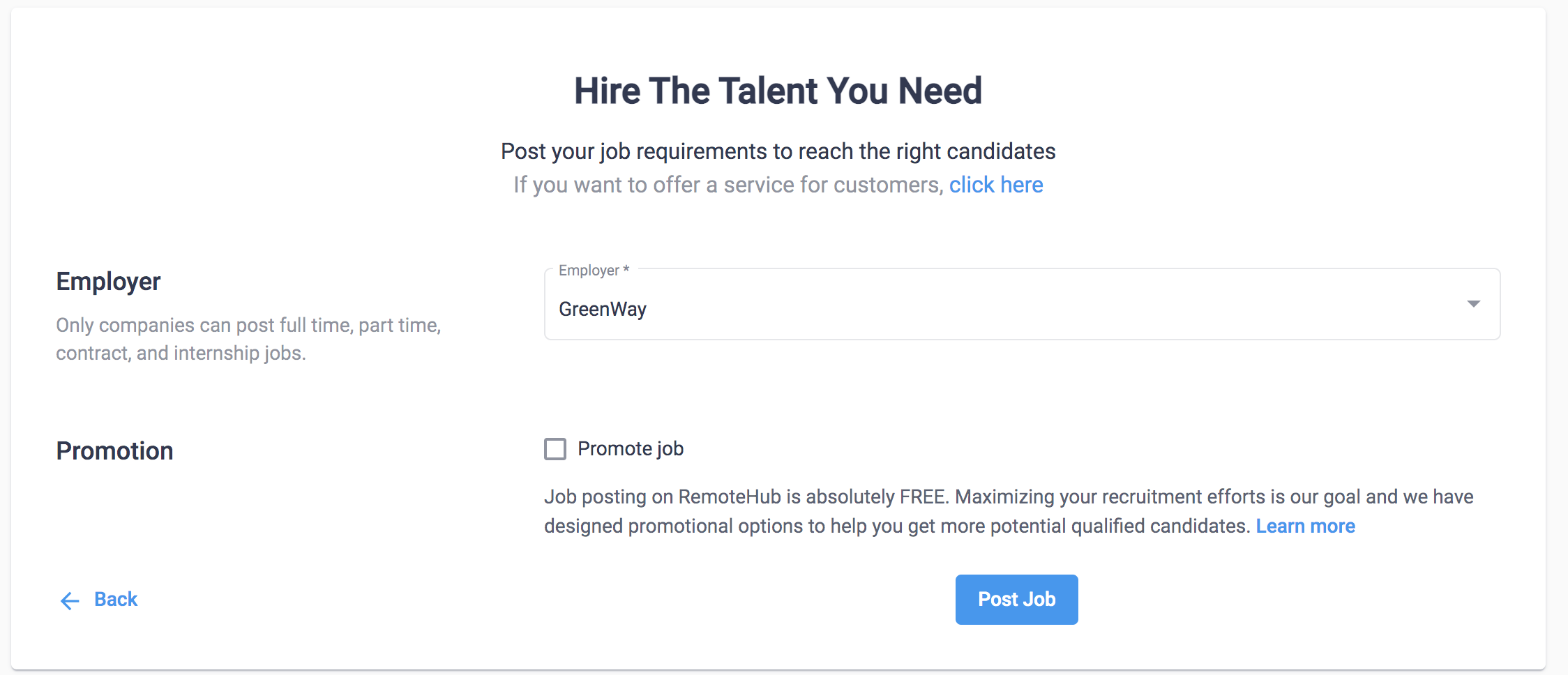 13. You are almost ready to post your job opening. At this stage you will see the "Post Job button" and below it the "Promotion" button which provides you the option to post the job opening using one of our paid promotions.
Promotions are a cost-effective way to boost your ability to target the right candidates, increase the visibility of your job opening and stay top of mind on our job board.
You can select Email Promotion, Network Promotion or Featured promotion individually, or purchase them at a discounted rate in the Booster or Super Booster Pack.
Here is a quick overview of the promotion options: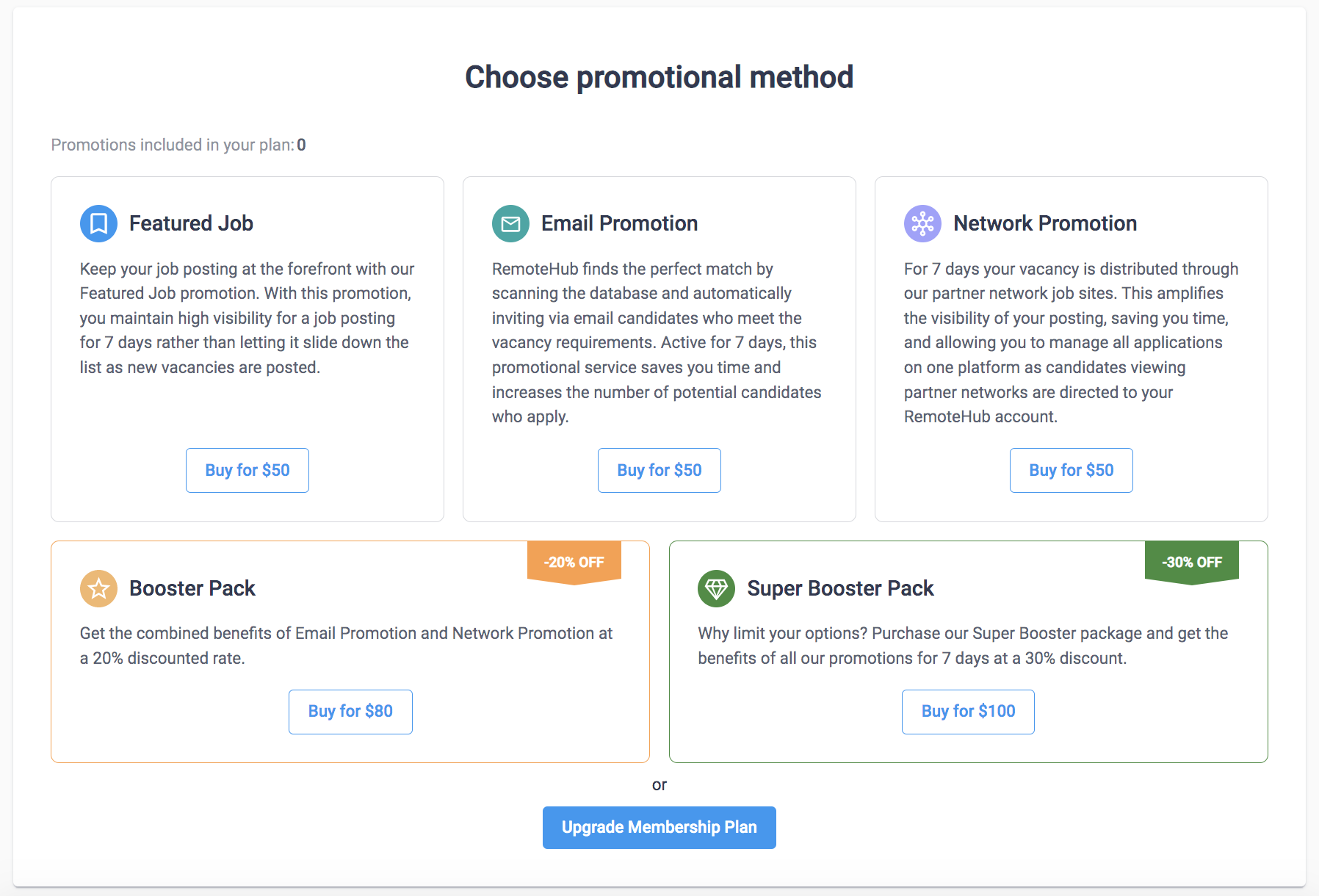 14. If you decide to proceed without a promotion don't worry you can post your job for free and add promotions later. Click on the "Post Job button" and publish your job opening.
Please note: only companies can post full time, part-time, contract, and internship jobs. If you want to post such a job, create a page for your company on RemoteHub.
→ See Create a Company Page for more information.
→ See Benefits of using our paid promotions for more information.